Branded - Inflatable Seating, Shelf Talkers, Floor Mats
Custom Printed Air seating. Perfect for Trade show booths or any temporary venue.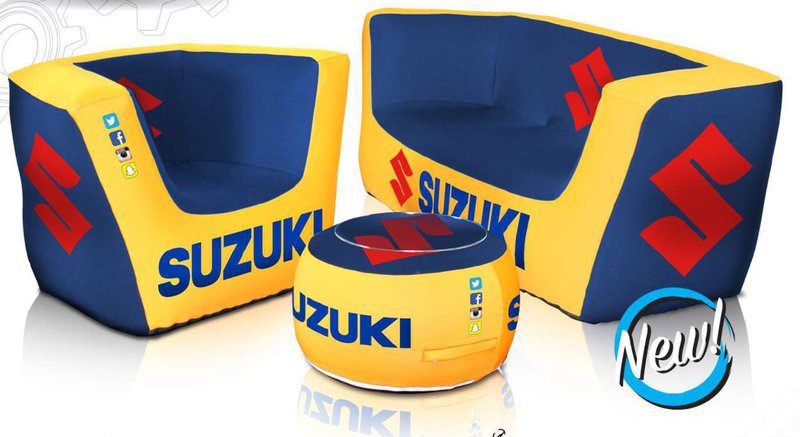 Welcome your customers to stay a while with this branded inflatable furniture. Multiple print areas on these pieces make your brand visible from any angle. They are light weight and can be stowed in a regular sized piece of luggage to fly with you to any event. Set up is about 3-5 minutes. Strong TPU inner material with the Neoprene printed outer cover, make washing easy. No set-up fees. Quantity discounts available.

Couch $775
Chair $575
Ottoman $399
Acrylic Ottoman top $59
Air Pump $49
Quantity discounts available
---
"Shelf Talkers"....the perfect option to bring your products to shows or anywhere without actually bringing it.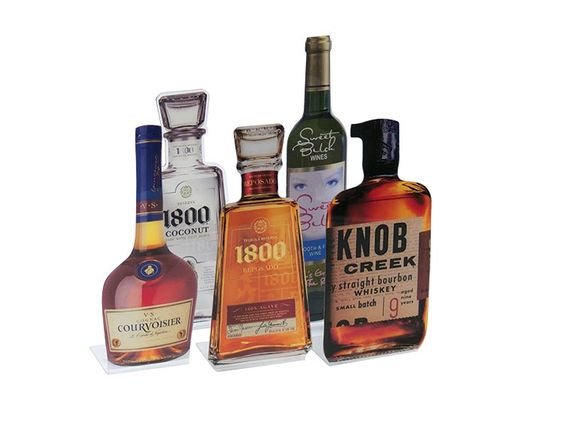 Acrylic Shelf Talkers are light weight, full color, "large as life" images of your products.
*A great, light weight way to bring you items to market along with all your other trade show booth necessities.
*Perfect for expensive items that need to be kept under lock and key until the purchase is complete.
*Highlight your items throughout your Sales Space.
*Link high margin items with loss leader products.
---
Custom Printed Floor Mats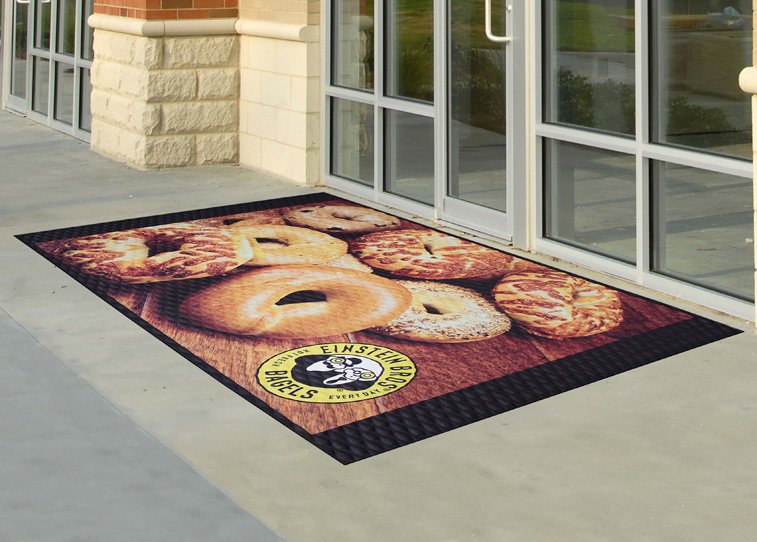 DIAMOND IMPRESSIONS
These mats are the newest technological twist in printed floor mats.
They feature a "diamond" texture in the vinyl.
Print your company logo, sales features, and add IMPACT!
Every inch of a trade show booth or store location is an opportunity for branding and value added marketing.
Show your customers that every step of the way
you have the products and services that they want and need.
* Indoor or Outdoor
* Photographic quality logos
* Pantone TM color matching available
* Logo printed to within 1/2" of the rubber borders
* UV, chemical and oil resistant
* Diamond surface patter offers superior traction
* Easy to clean
* Made in the USA

Material: 3/16" Nitrate Rubber
Diamond Impressions Sizes
Finished Size
Maximum
Print Area
Weigh
Price
18" x 24"
18" x 24"
17' x 23"
5 lbs.
$149
2' x 3'
22" x 34"
22" x 34"
6 lbs.
$179
3' x 5'
34" x 58"
34' x 57"
16 lbs.
$229
3' x 10'
34" x 118"
34" x 117"
32 lbs.
$479
4' x 6'
46" x 69"
46" x 68"
24 ls.
$299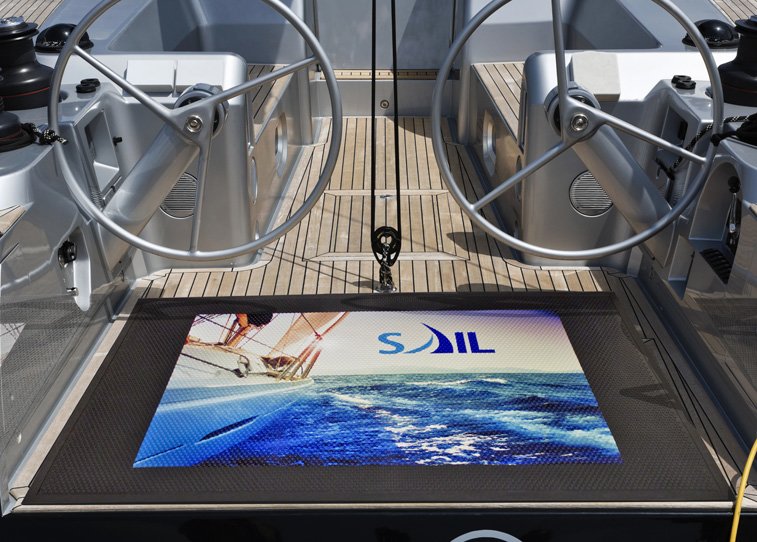 MAXIMUM SCRAPE
These mats are excellent for outdoor or indoor applications.
The circular pattern of the vinyl is stylish as well as practical.
Print a company logo or whatever you use to brand your products or services.
This is the first thing customers see and it is a great first impression.

* Photographic quality Logos
* Circular surface "cleats' design for scraping and traction
* UV, chemical and oil resistant
* Easy to clean with a hose or sweep off
* Made in the USA
Maximum
Scrape Sizes
Finished Size
Maximum
Print Area
Weight
Price
2.5' x 3'
29" x 34"
20" x 25"
8 lbs.
$169
3' x 5'
34" x 55"
25" x 48"
14 lbs.
$179
3' x 10'
34" x 111"
25" x 96"
28 lbs.
$389
4' x 6'
45" x 67"
36' x 50"
22.lbs.
$199
4' x 8'
45" x 95"
36" x 70"
31 lbs.
$399
6' x 6'
68" x 68"
43" x 50"
30 lbs.
$449
6' x 8'
71" x 96"
43" x 80"
46 lbs.
$529