4' Throw 42" high table. Digitally Printed Tablecloth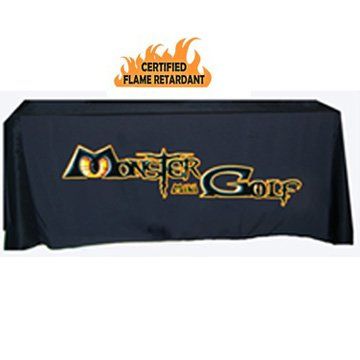 4' Throw 42" high table. Digitally Printed Tablecloth
Digitally printed cloth covers a 4'x30" table to the floor on all four sides. (Or 3 sides if that's what you prefer). 42" high table. We print the logo or information you supply via a file, on the front of the cloth. 100% Polyester, wrinkle and stain resistant fabric. Click on color chart to enlarge and see fabric color choices.  Comes with flame retardant certificate. (Washing or laundering may inhibit the flame retardancy.) Please send the art file to Info@FabricTablecloths.com. Reference your order number in the email. We accept Vector files, Adobe Illustrator or .eps files. Some .pdf files work if in high resolution. If you supply Pantone/PMS colors we can guarantee color matches. Once we receive the art, you will receive a proof to your email for approval. Cloths take 3 business days to produce after proof approval. Rush orders ship in 2 business days. Express orders take 1 business day after the proof is approved. The proof deadline for RUSH and EXPRESS orders is 1pm.
Use Coupon Codes in the Shipping & Payment part of the order process. 4+ items 10% discount: DP4+, 12+ items 15% discount: DP12+. 
Questions: call 800-322-5112. 


Reviews