4' x 30" Fitted Digitally Printed Tablecloth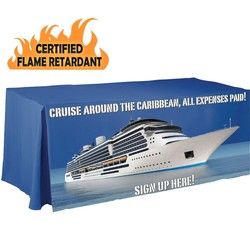 4' x 30" Fitted Digitally Printed Tablecloth
Digitally printed cloth covers a 4'x30" table to the floor on all four sides, with inverted pleats at the corners (Or 3 sides if that's what you prefer). We print the logo or information you supply via a file, on the front of the cloth. 100% Polyester, wrinkle and stain resistant fabric. Comes with flame retardant certificate. (Washing or laundering may inhibit the flame retardancy.) Please send the art file to Info@FabricTablecloths.com. Reference your order number in the email. We accept Vector files, Adobe Illustrator or .eps files. Some .pdf files work if in high resolution. If you supply Pantone/PMS colors we can guarantee color matches. Once we receive the art, you will receive a proof to your email for approval. Cloths take 3 business days to produce after proof approval. Rush orders ship in 2 business days, noonEST proof deadline. Express orders ship in 1 business day after the proof is approved, noonEST proof deadline.
Use Coupon Codes in the Shipping & Payment part of the order process. 4+ items 10% discount: DP4+, 12+ items 15% discount: DP12+.
Questions: call 800-322-5112.
Reviews